Latest news
Welcome
Welcome to our website. It contains no viruses or trojan horses but it's absolutely riddled with worms !

5th May is Wormcharming day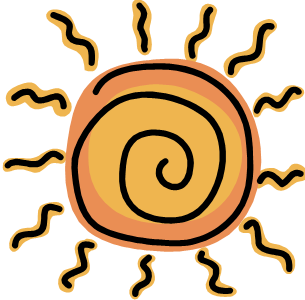 If you failed to spot it in the header at the top of the page, the Blackawton International Festival of Wormcharming takes place on 5th May this year. Let's hope by then that the current cold and wet climate has been replaced by endless hours of sunshine - much more appropriate for a "beach party" (see below).

Dress down for the beach on 5th May !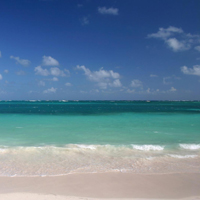 The theme for the 29th Blackawton International Festival of Wormcharming is "beach party". So dig out those loud Hawaiian shirts, itsy-bitsy bikinis, Bermuda shorts, surf boards and Raybans and head off for Blackawton beach (rumoured to be happening somewhere out back of the George Inn). Even if the cold weather persists, wet suits or swimmies on top of cold weather clothing will suffice. As ever, there will be prizes for the best themed outfits - and it's free to enter.

Music festival programme announced
Hot off the press...here's the impressive programme for the Music Festival taking place in the garden at the George Inn. Some returning favourites, ex-village "Blackrock"er Mike Lickfold in his new band and something completey new (and noisy).....Crooked Tempo - a twenty-five piece samba band. Just the thing for a beach party!
Dog show
Following the success of last year's inaugural event, the dog show will be held again this year - taking place in the Wormcharming field immediately after the Wormcharming competition itself. It will be open to all dogs to enter as many classes as they choose. All classes will have a £1.00 entry fee and there will be small dog-friendly prizes for first, second and third placed dogs. Any profits will be donated to local charities. For further information see our "Programme of events" page or talk to Carey Burton.

New shield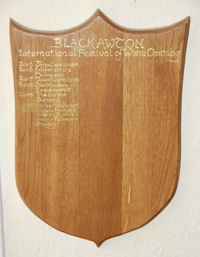 Space to inscribe the winners names on the original shield ran out in 2004. It's taken nine whole years since then to remedy the situation and produce a new shield inscribed with the winning teams from 2005 to the present day.

Travel Counsellors Cup sought
The organisers are still appealing for the return of the Travel Counsellors Cup - which was donated by a local travel consultant for presentation to the winners of the under 11's competition. Apparently, presented to the winners some years ago, it has not been seen since.

Volunteers needed
We always need more volunteers to help out on the day so if you can spare an hour or so please contact either Steve Thomas (01803 712840) or Ruth Coe (01803 712342).

Tallest sunflower competition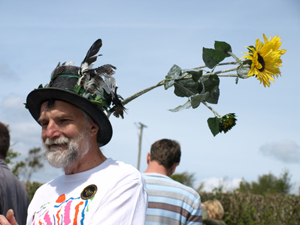 As has become usual at Wormcharming, Adrian Kyte (pictured) will be giving away sunflower seeds for the Tallest Sunflower competition and inviting donations for local charities. Competition results for the past three years are:
2009 Adult: Mike Patterson 2.59 m Child No entries
2010 Adult: Mike & Rosie North 3.32 m Child: Seb & Rowan 2.67 m
2011 Adult: Mrs Wood 3.80 m Child: Georgia 2.39 m
Think you can do better this year ?

Wormcharming memorabilia wanted
As well as informing you about this year's event, we plan to build up an archive of the history of Wormcharming in Blackawton. If you have photos, videos, stories or details of past winning teams please contact the Web (not Worm) Master to add them to the site.